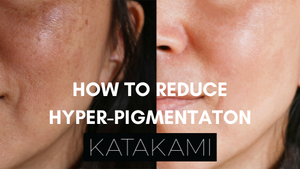 How to reduce hyper-pigmentation: skincare ingredients to look out for
Overtime, and as our skin ages, it slowly becomes prone to discolouration, unevenness and pigmentation. These consist of dark spots, and patches that slowly begin to appear on various areas of our face and bodies. The culprit is the sun whose UV rays can damage our skin causing our skin to react accordingly. The one and only most important thing to take away, is to wear sunscreen! It's easier to prevent than it is to correct.
What causes hyper-pigmentation on the skin?
Simply put, the sun's rays cause our skin damage, dark spots and hyper pigmentation. Hyper-Pigmentation occurs as a result of increasing pigment producing cells in our skin, these cells are said to produce melanin. It's been said that hormonal medication can also encourage melanin production in our skin as well, where females are heavily affected. 
What is the best way to treat hyper-pigmentation?
Some people opt to treat this pigmentation with chemical peel processes; such as glycolic and lactic acid and retinol among other chemical treatments. On the skincare side, hyper-pigmentation can be improved by using skincare  products that contain vitamin C- can be found in many serums and boosters, niacinamide, illuminating serums. BHA and AHA cleaners are also said to be great to aid in the destruction of hyper-pigmentation, Betehydroxy acids- salicylic, the acids listed above are known to help assist with acne, unclogging pores but also can aid in the erasure of these spots. Furthermore, retinol and retinoids speed up cell turnover and are able to penetrate deep into your skin's cells to correct the pigmentation and repair skin's damage that extend beneath the skin's surface. 
---