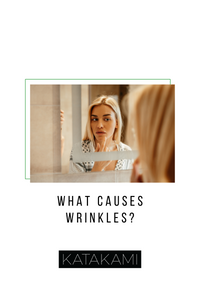 What Causes Wrinkles?
Our skin loses it's elasticity as we get older, as a result of our skin losing fat and producing less collagen beginning in our mid 20's. The first signs of wrinkles and lines develop as a result of repetitive expressions that we make. 
The extracellular matrix supplies the skin with its tensile strength and elasticity. Wrinkles are due to the loss of this matrix, and can be broken down by things like cigarette smoke, enviromental factors and UVA (sunlight), which further breakdown the collagen and elastic tissue that is thought to cause wrinkling.
---